Radiothon 2021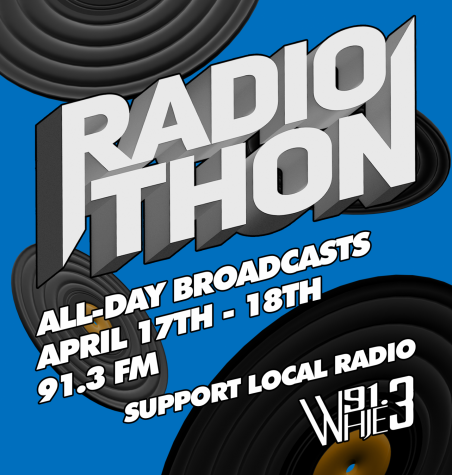 TOTAL RAISED: $9,494.50
The funds raised by Radiothon helps us pay for our license, keep all of our departments running, afford new equipment, and so much more. All donations are highly appreciated by everyone at WHJE!
THANK YOU SO MUCH TO ALL THOSE WHO SUPPORT US:
Ahni Brown-Harbin
Alex Ferrell
Amy White "In support of Brooks White and WHJE-FM! Go Hounds!"
Asaf & Ya-el Halevi "Keep up the good job!!"
Ashley Elmore
Ben Carlson
Bill & Cindy Weiss "On behalf of Sarah Bushue"
Bill & Karla Calhoon
Bob, Sara, and Abby Draper
Brian White "Donating on behalf of Brooks White"
Brandy Ostojic "CONGRATS on total raised so far! You guys are amazing."
Byers Brown "Proud former promotions manager from 1988!"
Brooke Ferrell "In honor of Alex Ferrell, host of The Modern Age."
Callahan Lacy "To the greatest radio station in the world! My life would not be the same without WHJE!"
Cathy Bartling
Cherine Perrin "SHOUTOUT to Gabe Perrin… host of Wake Up Call! You're the best!!"
Chris Elmore
Chris & Suzan Sanders "Yay funk! Nice job Karl, Riley and Evan!"
Christine Field
Christine Ramsey "I love WHJE! Go Hounds!"
Clayton (Ricky-Bobby) Walker
Cleveland Lehner Cassidy 'We love Records on Record!"
Cynthia Meneghini "E!!!!"
Cynthia Meneghini "Go Ethan!"
Dave & Heidi Dugan 
Dave & Jennifer Beckman
David Kenyon "In honor of Traveling Tunes! Shout out to Gabe Kenyon."
David Weiderhaft "For the best radio station in the world!"
Devon Singh "For the ability to have great content for years to come."
Dominic James "I'm now a member of the very exclusive 91.3 Club! Who is going to join me?!"
Doug Lowrie
Ellen Considine
Elly Musleh "Class of 77-78!"
Eric and Amy Meadows "From Local Fans of WHJE-FM Sports Programming! In support of Brooks White and all current and future Greyhound Voices…Go Hounds!"
Geoffrey Cutler "Class of 1977"
Grandma and Grandpa Seitz "This is on behalf of Margy Seitz!"
James Ulm
Janeen Pugh
Jennifer Cassidy "With Sophie"
Jennifer Courtney "Awesome work WHJE! Congrats on an amazing year!"
Jennifer Fletcher "For Jacob Fletcher, Top of the _____"
Jill Creech "Keep up the great work, Ahni!"
Jill Lacy "In honor of Callahan & Rachel Lacy"
Joanna Thornburg "I have faith that you guys will continue the WHJE tradition of excellence and I'm so grateful I got to be a small part of that!"
Josh Perrin "Fantastic Radio Station and Staff! Best out there."
Julia Clark "Yay! Go Ben and Will!!"
Kristen Atteberry "Great radio station. Love the Will and Casey Mostly Talk SKA show!!!"
Laura Fitzhugh "Enjoy Carley!"
Linda & Bruce Snyder "This is on behalf of Margy Seitz!
Lisa Elmore
Lisa Grove
Melanie Brown
Michael Hillsman
Michelle Browning
Mike & Michelle Goyer
Nicole Scott Hebert "I loved my WHJE days from 1988-1990!"
Nikita Ponomarenko "Greetings from Russia! Keep the brilliant on and keep being amazing!"
Paul & Karen Kozerski
Paul & Carman Bushue
Pinnacle Yearbook
Sara Carlisle
Scott Gaerte "Great job Wil (and Ben)!"
Seth Rinderknecht "Never back down from a challenge!"
Seth Rinderknecht "Meneghini Mixdown 💪"
Susan & Jim Wilson "On behalf of Margy Seitz"
Susan Daries "Was part of WHJE in 1995-1996 – such great memories!"
Susan Strain: "Greatest DJ ever!! Love Grandma (for Ethan. Love your radio show!)"
Terri Ramos
Terry Spillman
The Cruzan family
The Fronek Family
The Gaerte Family
The Jared B. & Abby Kozerski Houck Family "In recognition of Caroline Houck's 2021 IBS Awards"
The Walker Family
Thomas Durisek 
Tricia Seitz
Whitney Saucedo "The Saucedo's are Will Courtney's biggest fans!"
Will & Cathy Huiras "So happy our son is able to be a part of such a wonderful opportunity at WHJE!"
Thank you also to a number of donors who do not wish their names published!