About
WHJE (91.3 FM) is a high school radio station broadcasting an Alt-Rock format. The station is currently owned by Carmel/Clay School Corporation. The transmitter is located atop Carmel High School, in Carmel, Indiana. 
All radio staff members are Carmel High School students ranging from freshmen to seniors. Students can join the station by taking a basic level lab class and then apply to join the official radio staff. 
The station is completely student-run, overseen by station manager/adviser, Dominic James. Senior students manage every aspect of the station, leading new initiatives, working with junior members who choose which department they wish to join: Music Shows, Talk Shows, Podcasts, Sports Broadcasting, Promotions & PSAs or News. 
We regularly work with partners in the community, often providing support at live events with our mobile DJ/PA system; many shows invite guests in to speak about local issues. 
You can listen to us live on 91.3 FM and via the 'Listen Live' tab on the website.
If you would like more information, contact Dominic James via email: [email protected] 
Station Manager, Dominic James: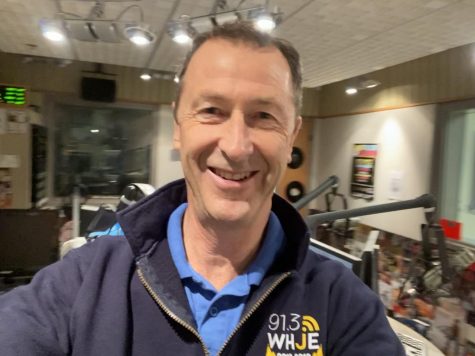 I'm Dominic James, Station Manager and Radio Adviser. I have worked at Carmel High and WHJE since 2016. Before that I worked in the UK, teaching high school students for over 30 years in a variety of subjects. I qualified from Lancaster University as an English teacher, but soon realized I preferred teaching Theatre, Film and Digital Media. Over the years I have directed many plays, musicals and films. I also spent many of those years as Department Head and then Assistant Principal – so for much of my professional life I have been privileged to manage large groups of highly creative people. 
I love travelling the world and exploring new places with my wife, who is a Theatre Director at another local high school. We go back to visit our daughters in the UK whenever possible, as well as road tripping across America – although we have to leave our cats, Victor and Hugo, behind. So far I have visited 32 US states and am determined to see them all!