Blog Post#30- Recap Carmel Men's Basketball v. Ben Davis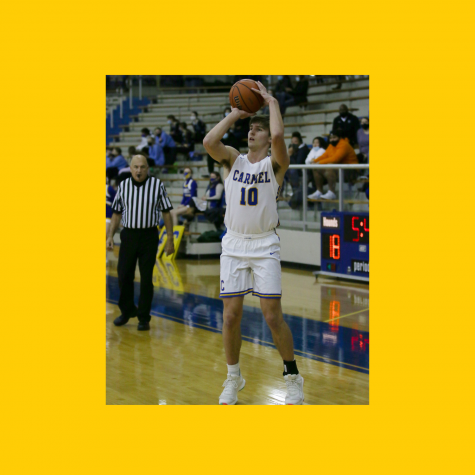 On Friday, January 29th, the Carmel Men's Basketball team took on the Ben Davis Giants at the Eric Clark Activity Center! With the COVID-19 restrictions in place, attendance was held at a 25% maximum capacity for the game. As always, WHJE was on the call for this exciting game! It was the Greyhounds and the Giants, and here is your recap of it all! The first quarter began with Peter Suder taking a hot lead over the Giants as he had 7 of Carmel's 9 halfway through the first! With a timeout called, Carmel led 11-4 over the Giants with three minutes remaining. Brian Waddell and Charlie Williams helped the Greyhounds expand their lead as the first quarter came to a close! The score was 19-6 in favor of Carmel! Throughout the second quarter, the Hounds continued their sharp shooting and impeccable defense and went into the locker room leading over the Giants with a score of 33-21! Sam Orme, Josh Wack, Connor Gioia, and Nick Frische all contributed to the lead! 
Coming out for the second half, the Hounds let Peter Suder loose as he was the leading scorer with 20 points. The Hounds only allowed for the Giants to put up 9 points throughout the entirety of the third! Going into the fourth quarter, the Hounds led with a score of 50-30! Carmel continued their hot streak by extending their lead to 59-37 with a timeout on the floor with four minutes to go! Looking to close out this contest, the Hounds continued to stay determined until the very end! As the game came to a close, Carmel defeated Ben Davis with a score of 67-41! The Hounds improve to a record of 15-1 while Ben Davis drops to 6-9!
The Hounds will be back in action at Lawrence North on Thursday, February 4th!
Photo credit to Hannah Baer!